It is my great pleasure to announce the promotion of Kerry Bushue of the Personal Protection Agency Lindale, TX and Joseph Larison of the Storm Dragon Dojo Effingham, IL to the rank of 5th Degree Black Belt Godan Master in C&S Self Defense association. They received their rank 11/04/04 at the recent Master Candidate Review held in Wells Beach, Maine.

Both Master Bushue and Master Larison have well over 20 years of experience and are disciples of Grandmaster David Landers. Presiding over the retreat were all members of the Board of Directors of C&S Self Defense Association: White Cobra Grandmaster Peter Rose of Dover, NH, Tiger Grandmaster Paul Dusenbery of Boulder, CO, and Storm Dragon Grandmaster David Landers of Effingham, IL. Assisting in all facets of the Review and lending his insight in the process of mastership was Master Bruce Vinciguerra of Somersworth, NH whose organization and attention to detail made the Review the success that it was. He even brought cigars for those who were so inclined - which many were. As a matter of fact, this was a huge hit as we ended up on the outside balcony walkway of our 2nd floor units until around midnight; the weather was that nice. We were having so much fun that we actually created a party with some of the resorts other guests. It's always nice to meet other folks - these from Vermont.

I am so proud to have been a part of this gathering of our association's leadership and to welcome 2 new members to the Master level. Our discussions ranged over so many topics and covered so much ground. It was a joy to participate in! And the weather was just spectacular the entire time except for a really cold rainstorm Thursday night orchrastrated just to welcome the new Masters to their new rank. The final muted browns, golds, and deep yellows of Fall leaves provided a beautiful background for us from our vantage point of the ocean just across the expanse of the salt marsh next to the resort we stayed at. It was also great to be able to spend some time on a couple of occasions in the resort's heated indoor pool and hot tub as our discussions continued. A rare treat as New England weather can be anything from what it was to snow at this time of the year - which, actually was predicted but passed North of us; all we got was some rain. We were even able to hold one workout clinic way out on the dunes of Wells beach, though the incoming tide ran us off just as we were finishing up. The wind was so chilly, though, that it penetrated right through our jackets. But not to worry as we drove down to Ogunquit, ME for lunch, and recovered in the warm comfort of Jackies restaurant on the quaint New England inlet of Perkins Cove.

Grandmaster Landers graced us with his special breakfast omelet skills, Master Vinciguerra prepared a terrific lasagna dinner, and Master Bushue amazed us with his rendition of beef stroganoff one night! We broke bead together, drank some nice wine, and had stimulating discussions. We had several workouts sharing various drills and techniques each Master used in their own groups so that all could share. And we all learned something new - even the Grandmasters, so never ever say that old dogs can't learn new tricks because you'll get bit!

I want to be sure you are all aware of the great resources that we have in our new Master's and in their commitment to following the way of our art. Both Master Bushue and Master Larison made insightful presentations of some of their areas of expertise. The questions and ensuing discussions from the rest of the group present stretched these presentations far beyond not only our original time frame, but far beyond even the immediate topics. Both Master Bushue and Master Larison stimulated all of us with their own excitement of what they were doing. And that's really what it's really all about: it's about doing what you love to do and sharing that with another. Of having a commitment to a process of study that transcends just requirements, but encompasses ones life essence to such an extent that others are positively affected by their passion.

Master Bushue and Master Larison have a passion for not only their art, but also sharing that art with their students. You who study with these two fine Masters have much to be proud of. But you all now have a lot to live up to. You can not afford to be slack in your efforts as you are a reflection of your Master. I know you are all up to this challenge because I spoke with both Master Bushue and Master Larison and they told me of each of you, of your efforts, of your pride, and of your dedication. Rest assured that they are as proud of you as you are of them. And how much better than that can it get!

In our art,
Grandmaster Rose





Misty Harbor Resort looking South East.

Misty Harbor Resort looking South.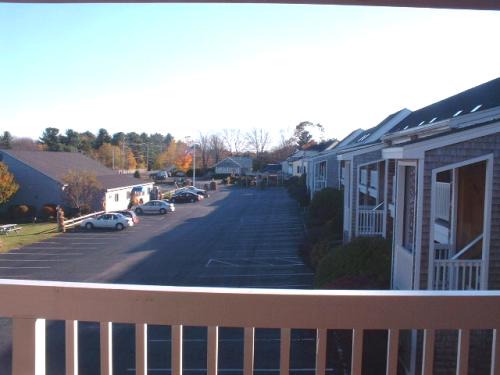 Misty Harbor Resort looking South West.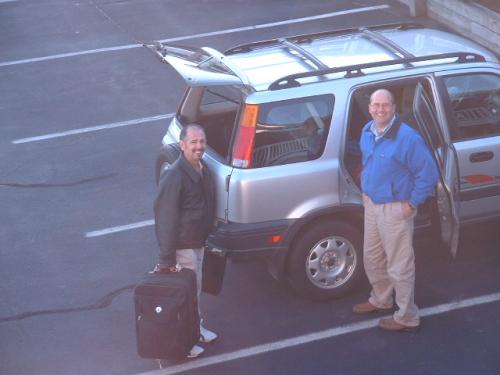 Master Larison and Master Bushue helping unload Master Vinciguerra's car - he had all the food! These guys know what's important!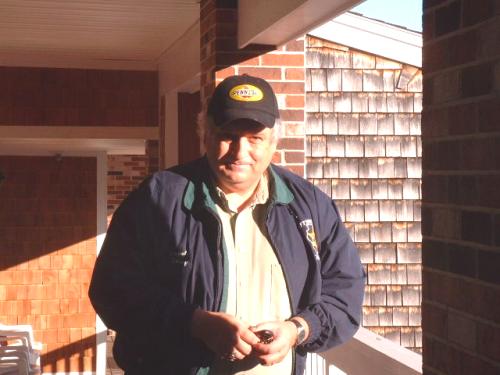 Grandmaster Landers arrives "...in th'house".

Master Vinciguerra unpacks Wednesday nights lasagna dinner which was absolutely super.

Grandmaster Landers calls the troops to dinner; you don't want to ask what he had plans to do with the pot if folks didn't hop to it...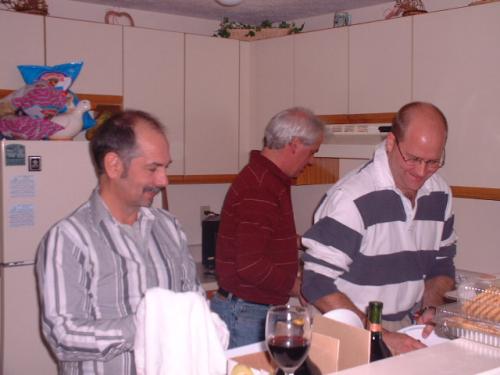 Everyone chips in to help clean up. That's my wine in the foreground. No one better touch that puppy...

Grandmaster Rose, Grandmaster Dusenbery, and Master Larison settle in after returning from one of the early morning outside workout sessions.

Master Larison is allowed to live another day by Grandmaster Dusenbery.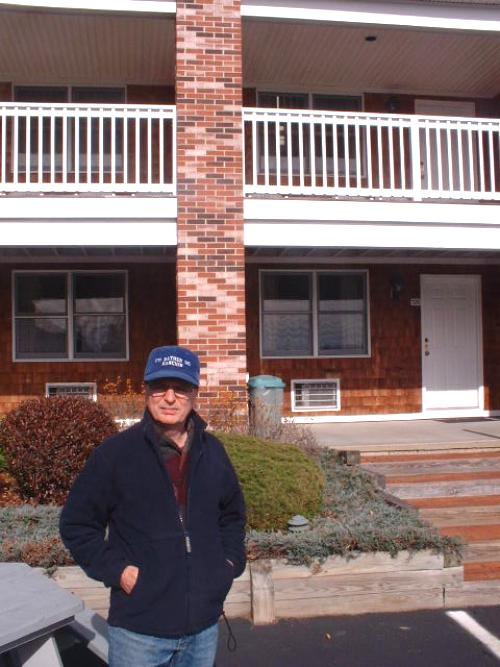 Grandmaster Rose bundles up in the windy and quite chilly morning air as we all head off for a workout on Wells Beach. The tag on the hat says it all: "I'd Rather Do Sanchin"...

Overlooking the North side of Perkins Cove, Ogunquit, ME.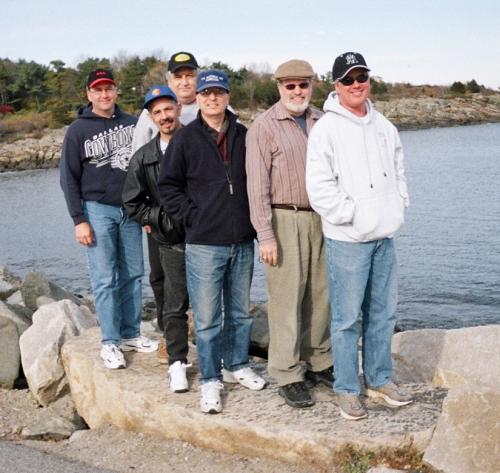 Another shot of all of us taken by some folks we traded picture taking activity with.

The rocky coast of Maine.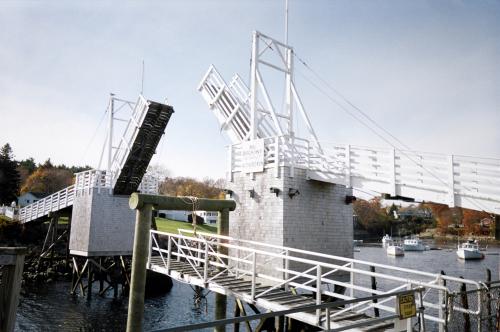 The famous drawbridge across the entrance to Perkins Cove, Ogunquit, ME.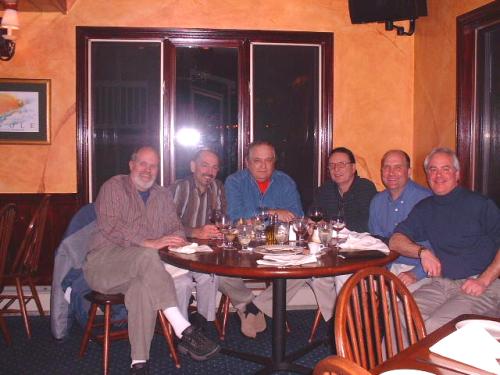 The Masters gathered for dinner Thursday Nov. 4th at Varanno's Italian Restaurant next door to the Misty Harbor Resort, Wells, ME. We had a spectacular meal, and our waitress, Vanessa, was kind enough to snap this picture of us all.

Are these guys having fun, or what! That's what happens when you get promoted to Master: you have fun! It's just the first 20 years or so that are a killer...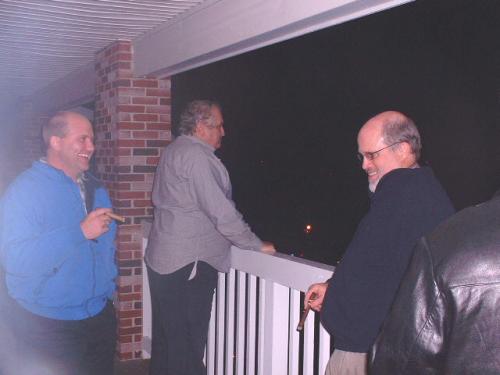 Smoking was not allowed in the units so - despite a very chilly night - the celebration continued on the balcony of the resort.